Seminars, Weddings, Events
A quality infrastructure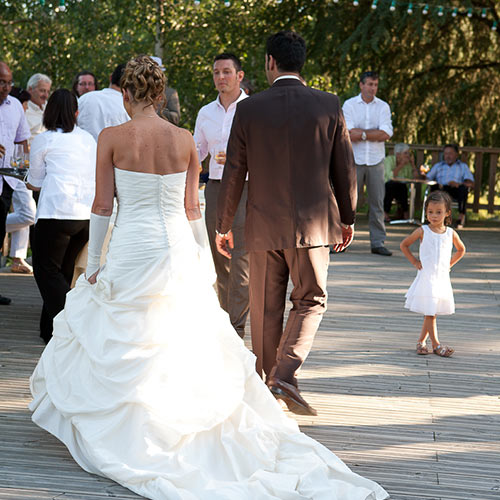 The facilities, the comfort and the partnership relays of the Hameau Saint-Martial offer the possibility of organising company seminars, training sessions, club meetings, sports cohesion courses, themed stays, group meals combined with visits or not (senior citizens, associations, works councils), festive evenings with friends, family reunions (weddings, christenings, communions, golden weddings...).
The Hamlet then makes available to the applicants all its services (meeting room, banquet room, bar, crockery, kitchen equipment, accommodation in a chalet, linen...), its contacts (catering, animations, sports, cultural and rural service providers), its skills and know-how.
These events can take place during the low season and the offer includes the rental of rooms as well as the rental of chalets.
As each project is different from the others, please contact us so that we can draw up an estimate that will perfectly meet your needs.
A preparation room
This is the area dedicated to the preparation of meals and the treatment of dishes.

On the spot :
Professional dishwasher (with liquid detergent)
Professional refrigerator cabinet 600 litres
Freezer
Gas hob (4 burners)
Stainless steel preparation table
2 stainless steel sinks with trays and draining boards
Microwave oven
Coffee maker 80 cups
All the dishes for a meal for 120 guests.
A practical and customizable reception room
The animation room extends over two levels for a total area of 200m². Both spaces benefit from an acoustic treatment providing optimal comfort.
It is also :
A plate setting room
a water point and "ladder" shelves. This room is very useful for setting up and storing plates before and during the service.
A corner bar
in the lower room with sink and refrigerator top
Equipment:
20 rectangular tables 120 x 70 cm (4 persons + ends)
1 tray ø 188 cm without legs (12 persons: tray to be placed on a rectangular table 120 x 70 cm)
4 trays ø 160 cm with legs (9 persons)
10 trays ø 150 cm without legs (8 persons: these trays are placed on a rectangular table 120 x 70 cm)
120 chairs
Electric radiators

Optimal occupancy:
between 80 and 120 people for a family meal
between 40 and 50 working people
Sanitary:
Including 1 standard WC, 1 handicapped WC, 1 "Turkish style" WC, 1 washbasin.